Situation
A global automotive tier 1 creating novel software intensive systems has strong systems and software engineering technical capability but low/no process maturity.
They recognise the need to develop and deploy exemplary development processes to:
Achieve product functional safety and cybersecurity
Ensure consistency and efficiency between systems and software teams
Improve product line (reuse) approach
Support implementation of model-based systems / software development
Improve quality and reduce defects
Meet their customers' needs for Automotive SPICE™ Capability Level 3 and compliance with ISO 26262
They partnered with 3SK on a process improvement project (PIP) to achieve state-of-the-art process maturity. We were engaged to define and deploy a set of lean processes which achieve Automotive SPICE™ Capability Level 3 (Extended VDA scope) and fully comply with the needs of ISO 26262. This included provision of all supporting artefacts, tool configurations, templates, checklists, guidelines, training, coaching, etc.
Approach
We followed our 5-step approach as illustrated below.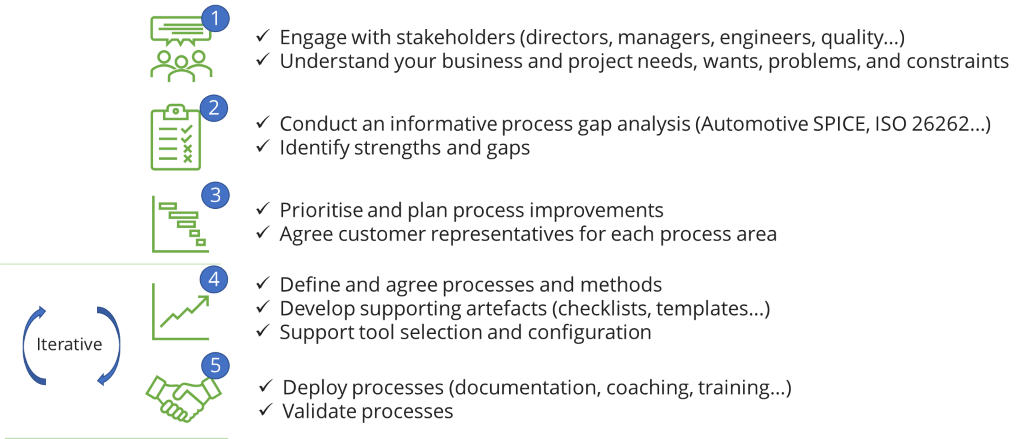 We established strong stakeholder engagement from the outset, ensuring we understood the client's needs and constraints, whilst also assuring that the processes and methods developed would be accepted and followed by the team. 
This process improvement activity is iterative and aligned with client priorities and project delivery needs, delivering value as rapidly as possible. 
Outcomes 
3SK defined and deployed a cohesive set of twenty-four processes into the business, covering systems and software engineering, project and risk management, verification and quality assurance, problem and change management, supplier management, and functional safety. 
These included all supporting content, for example templates, tool scripts and configurations, verification checklists, guidelines, work-instructions, and more.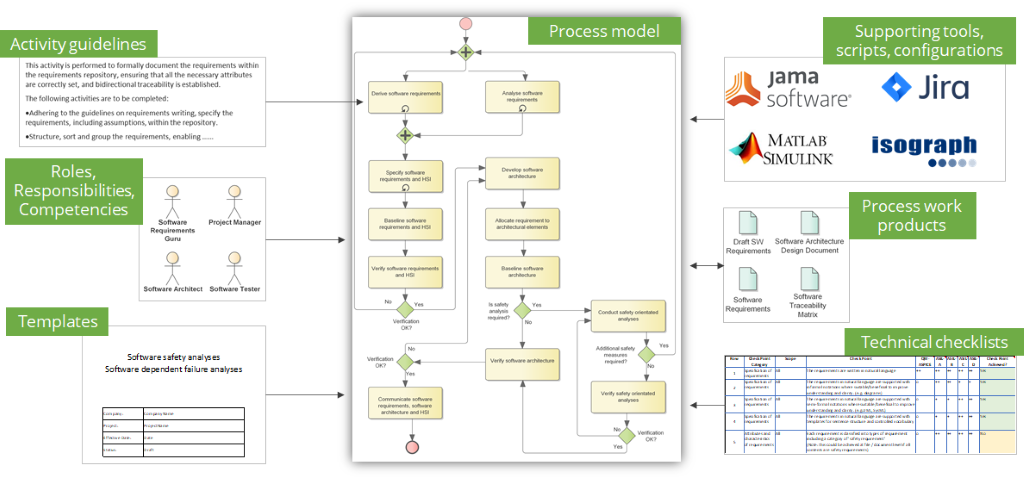 The processes were modelled using Business Process Modelling Notation, with consistency of information flow and reuse across the entire end-to-end process flow being assured. Full compliance with every Automotive SPICE™ Base Practice and Generic Practice, and ISO 26262 process requirement, was achieved.
The entire project spanned a period of 9 months and was delivered on schedule and cost.
Value Add
Defining a unified set of lean processes, with all necessary templates, guidelines and checklists
All processes are intuitive, accessible, understandable, and in use by all divisions
Substantial improvement in technical management and project delivery
Ability to achieve Automotive SPICE™ Capability Level 3 and ISO 26262
Customer Feedback
Business Director: "We have benefitted a huge amount from the collaboration with 3SK "
SW Director: "We are working very well with 3SK"
Systems Director: "Very fruitful collaboration "
SW Director: "Very high class and insightful"
Manager, Systems Engineering: "True expertise"
Project leader: "Super useful for the company"
Project leader: "Very professional and great attitude"